Flower Moon Lodge
4000 SF
House in Whitefish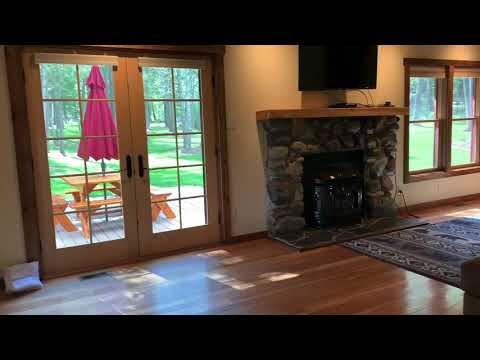 Property Details
Great space for large families or smaller groups wanting to spread out. The property is immaculately kept with a large lawn, woods, ponds, and lots of flowers in Summer, with space to xc ski and snowshoe in winter. Close to Glacier National Park!
Our Flowermoon Lodge is a 5 bedroom, 3 bathroom house, equipped with brand new washer/dryer and appliances. This unit has been completely remodeled, so everything is brand new! Exquisitely designed, the house has 4 bedrooms with queen sized beds, and a master suite with a king sized bed. There are also 4 queen sized sleeper sofas and a day bed throughout the house allowing it to accommodate up to 18 people. With a huge kitchen, full sized refrigerator, oven/stove, dishwasher, and microwave, you are able to cook full meals if you would rather not go out. The unit overlooks a large pond and pasture area and has a large deck that wraps around half the house if you would like to sit outside and enjoy the atmosphere. The deck is also great for BBQing. The property itself is 15 acres with 2 ponds, lots of lawn space, trees, wooded areas, and pasture. There are multiple housing options on the property ranging from 5 bedroom cabins to a 1 bedroom handicap accessible apartment if you would like to rent several units together. Please don't hesitate to reach out with questions!
If you are planning for Winter, come stay in our cozy cabin just minutes from all things Winter! Explore the beautiful winter wonderland of downtown Whitefish, which is only 10 minutes away! Better yet, get your skis out and head to Big Mountain, which is only 20 minutes from the cabin to the ski lift! If you prefer cross country skiing, the Whitefish Country Club turns into the Glacier Nordic Club in winter with groomed cross country trails on the golf course. This includes lit up trails for night skiing! They also maintain many other nordic trails in the valley for your use. Check their website for the groomed trail report. Snowmobiling, dog sledding, snowshoeing, and much more are only a short trip away too! There is really something for everyone here in Winter!
The lodge is conveniently located to attractions in the valley. This beautiful property is located 10 minutes from Glacier International Airport, 5-10 minutes from local dining establishments, 10 minutes from Costco, grocery stores and other big box stores for your convenience, 10 minutes from downtown Whitefish and 10-15 minutes to Kalispell. The entrance to Glacier National Park is only a 35 minute drive.
There are many golf courses in a 10 mile radius from the property. To name a few:
- Whitefish Lake Golf Club
- Iron Horse Golf Club
- Meadow Lake Golf Course
- Northern Pines Golf Club
- Village Greens Golf Course
- Buffalo Hill Golf Club
We are also only located 10 minutes from the Majestic Arena and 15 minutes from Rebecca Farm.
As you can see, there is so much to do within a 10 minute drive from our beautiful location!
Sleeping Arrangements
Common Spaces
2 Single Beds, 4 Sofa Beds
Policies
Cancellation Policy
(There is a separate policy for whole resort rentals, see below). We understand that certain circumstances may require you to cancel your reservation. Should you need to cancel, please let us know as soon as possible. Our cancellation policy is as follows: More than 60 days from arrival date, you will receive a 100% refund less the non-refundable service fee, between 60 and 30 days of arrival date, you will receive a 50% refund less the non-refundable service fee, should you cancel less than 30 days before your specified arrival date, you will not receive a refund. There will be no exceptions to this policy.
WHOLE RESORT RENTAL CANCELATION POLICY: If you are renting all units on the resort together, you may cancel more than 90 days prior to your arrival to receive a full refund less a 15% cancellation fee. Your remaining balance will be due 90 days prior to your arrival and there will be no refunds for cancellations within 90 days of your arrival. There will be no exceptions to this policy.
Deposit Policy
50% deposit is due at time of booking to reserve your dates. Balance is due 30 days prior to arrival. Please note, if your reservation is a whole resort rental, your balance will be due 90 days prior to your arrival.
Rate varies due to seasonality and holidays. Please select your dates on our online booking calendar for an exact quote.
"Airbnb Review #831274438400058812 #189388"
Great space
"Airbnb Review #733465563 #99801"
Nice relaxing retreat not too far away from town if you need a local Target. Yet far enough outside of town that you still get the country feel your looking for. Very clean, new, home. Lots of room and bedrooms for everyone. King master bed super comfy. Very quiet. Close to Glacier National Park which we visited one of the days. Neat house would recommend to anyone!
"Great place to escape and unwind"
This resort is a great place to spend the weekend with some friends. I would highly recommend it to anyone
"Holidays 2019"
This place was very very clean. That is so important to us! The hosts were totally accommodating ! Great experience!
Photo by: Kelly Kirksey Photography
Large kitchen - seats 8
Kitchen and bar - seats 2
Dining room, seats and additional 8
Master Bathroom
Master bathroom shower
Flower Moon front door
Parking and entrance
Private deck
Living room off of kitchen with pellet stove and reading nook
Living room off of kitchen with pellet stove and reading nook
Pellet stove near kitchen.
Bathroom - upstairs and downstairs bathrooms are identical
Private deck
Front of house
Front courtyard.
Gift Shop
Back pond
Deck and woods
Back of house
Back of house
Horses - usually on property from June - November.
Volleyball net
Weber gas bbq grill