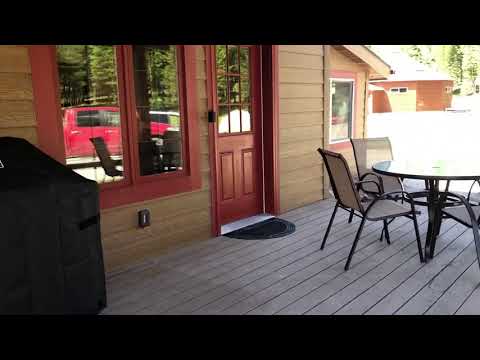 Property Details
Our Merry Moon suite is a beautiful 1 bedroom, 1 bathroom, handicap accessible on the main level.
This cabin is part of the beautiful Haymoon Resort in Whitefish, Montana. With 2 ponds and 15 acres of incredibly landscaped lawn, pasture, garden, and wooded areas, the property is absolutely gorgeous. There are several lodging options on the resort, however each one is private enough that you don't feel like you are sharing the space with other people. They are all close enough though, that if you have a large group that wants to spread out, you are all on the same property! All of our cabins are clean, cozy, and well stocked. You will feel at home the moment you walk in. The property is large with lots of room to play outside in both summer and winter! In Summer we have cornhole, volleyball, horse shoes, and lots of lawn space. One of the biggest comments that we get (and we completely agree!) is that our property is in the perfect location. We are less than 10 minutes from the Glacier Park International Airport (FCA) in Kalispell, and centered between Whitefish, Kalispell, and Columbia Falls. We are about a 30 minute drive from the Glacier National Park West Entrance.
The biggest question we get in Winter is "how far away are you from the ski hill?" We are only about a 20 minute drive from the parking for the lifts at Whitefish Mountain Resort. It is super convenient to stop in Whitefish for breakfast, dinner, the grocery store, or for rentals on your way up and down the mountain. Lots of people think being on the Mountain is the best place to be, however it can get busy and loud up there and it is sometimes less convenient because you still have to come down the mountain into Whitefish if you want to head to the grocery store or head out to a restaurant for a meal. We are season pass holders ourselves and pop up to the mountain from here for a quick run all the time. Another convenient option is the SNOW bus which will pick you up and take you up the mountain! The closest pickup is Whitefish Mountain Mall (by the Mcdonalds) which is less than a 10 minute drive. Every group seems to have a person or two that wants to ski every single day, but the rest of the group wants to do something else. Maybe they like Snowmobiling, Dog Sledding, cross country skiing, sledding, ice skating, ice climbing, head up to Glacier National Park for a bit, shopping, or just relax at the cabin by the fire. The Flathead Valley has something for everyone!
Our Merry Moon is a 1 bedroom, 1 bathroom, handicap accessible suite on the main level. Exquisitely designed, this suite has 1 bedroom, with a queen sized bed, and a queen sized sleeper sofa in the living room, making it able to accommodate 4 people. With kitchen, refrigerator, stovetop, microwave, and gas BBQ, you are able to cook full meals if you would rather not go out. The unit overlooks a large pond and pasture area and has a deck if you would like to sit outside and enjoy the atmosphere. The property itself is 15 acres with 2 ponds, lots of lawn space, trees, and pasture. There are multiple housing options on the property ranging from 5 bedroom cabins to this 1 bedroom handicap accessible suite if you would like to rent several units together. Please don't hesitate to reach out with questions!
This beautiful suite is conveniently located to attractions in the valley. This beautiful property is located 10 minutes from Glacier International Airport, 5-10 minutes from local dining establishments, 10 minutes from Costco, grocery stores and other big box stores for your convenience, 10 minutes from downtown Whitefish and 10-15 minutes from Kalispell. The entrance to Glacier National Park is only a 35 minute drive.
There are many golf courses in a 10 mile radius from the property. To name a few:
- Whitefish Lake Golf Club
- Iron Horse Golf Club
- Meadow Lake Golf Course
- Northern Pines Golf Club
- Village Greens Golf Course
- Buffalo Hill Golf Club
We are also only located just minutes from the Majestic Arena and 15 minutes from Rebecca Farm.
As you can see, there is so much to do within a 10 minute drive from our beautiful location!
Policies
Cancellation Policy
(There is a separate policy for whole resort rentals, see below). We understand that certain circumstances may require you to cancel your reservation. Should you need to cancel, please let us know as soon as possible. Our cancellation policy is as follows: More than 60 days from arrival date, you will receive a 100% refund less the non-refundable service fee, between 60 and 30 days of arrival date, you will receive a 50% refund less the non-refundable service fee, should you cancel less than 30 days before your specified arrival date, you will not receive a refund. There will be no exceptions to this policy.
WHOLE RESORT RENTAL CANCELATION POLICY: If you are renting all units on the resort together, you may cancel more than 90 days prior to your arrival to receive a full refund less a 15% cancellation fee. Your remaining balance will be due 90 days prior to your arrival and there will be no refunds for cancellations within 90 days of your arrival. There will be no exceptions to this policy.
Deposit Policy
50% deposit is due at time of booking to reserve your dates. Balance is due 30 days prior to arrival. Please note, if your reservation is a whole resort rental, your balance will be due 90 days prior to your arrival.
Rate varies due to seasonality and holidays. Please select your dates on our online booking calendar for an exact quote.
"Airbnb Review #939231558805622293 #208262"
We can't wait to come back! Such a beautiful and peaceful place.
"Google Review"
We had an amazing stay! Brooke was awesome with everything we needed! We will definitely be back.
"Airbnb Review #403616632515519910 #117293"
The place was very clean and cozy. Brooke was very helpful and accommodating throughout our stay!
"Relaxing getaway"
This is a beautiful property that is off the beaten track and yet a short drive to everything. We were only the second to stay in this unit so everything was brand new and the unit was well equipped. Brooke was very accommodating and we wish them so much luck with this venture. We look forward to going back.
"Such a special place! I highly recommend staying here!"
The property is amazing. Brooke is so helpful and makes you feel right at home. It's close to everything you need in town but also gives you a great vacation vibe. We will be back!