North Star Cabin
3800 SF
Log Cabin in Whitefish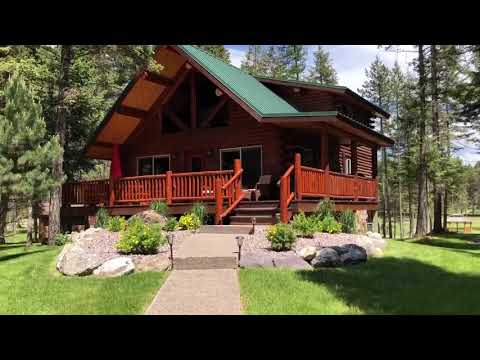 Property Details
The North Star Cabin feels like a cabin in the woods, yet is conveniently located close to town, ski resort, and everything the valley has to offer! Fireplace (pellet stove), jetted tub, and well stocked kitchen. Perfect holiday getaway!
This cabin is part of the beautiful Haymoon Resort. With 2 ponds and 15 acres of incredibly landscaped lawn, pasture, garden, and wooded areas, the property is absolutely gorgeous. There are several lodging options on the resort, however each one is private enough that you don't feel like you are sharing the space with other people. They are all close enough though, that if you have a large group that wants to spread out, you are all on the same property! All of our cabins are clean, cozy, and well stocked. You will feel at home the moment you walk in. The property is large with lots of room to play outside in both summer and winter! One of the biggest comments that we get (and we completely agree!) is that our property is in the perfect location. We are centered between Whitefish, Kalispell, and Columbia Falls.
The biggest question we get in Winter is "how far away are you from the ski hill?" We are only about a 20 minute drive from the parking for the lifts at Whitefish Mountain Resort. It is super convenient to stop in Whitefish for breakfast, dinner, the grocery store, or for rentals on your way up and down the mountain. Lots of people think being on the Mountain is the best place to be, however it can get busy and loud up there and it is sometimes less convenient because you still have to come down the mountain into Whitefish if you want to head to the grocery store or head out to a restaurant for a meal. We are season pass holders ourselves and pop up to the mountain from here for a quick run all the time. Another convenient option is the SNOW bus which will pick you up and take you up the mountain! The closest pickup is Whitefish Mountain Mall (by the Mcdonalds) which is less than a 10 minute drive. Every group seems to have a person or two that wants to ski every single day, but the rest of the group wants to do something else. Maybe they Snowmobiling, Dog Sledding, cross country skiing, sledding, ice skating, head up to Glacier National Park for a bit, shopping, or just relax at the cabin by the fire. The Flathead Valley has something for everyone!
This beautiful property is located 10 minutes from Glacier International Airport, 5-10 minutes from local dining establishments, 10 minutes from Costco, grocery stores and other big box stores for your convenience, 10 minutes from downtown Whitefish and 10-15 minutes to Kalispell. The entrance to Glacier National Park is only a 30 minute drive. And from the Resort to the ski lifts at Whitefish Mountain Resort takes about 20 minutes.
There are many golf courses in a 10 mile radius from the property. To name a few:
- Whitefish Lake Golf Club
- Iron Horse Golf Club
- Meadow Lake Golf Course
- Northern Pines Golf Club
- Village Greens Golf Course
- Buffalo Hill Golf Club
We are also only located 10 minutes from the Majestic Arena and 15 minutes from Rebecca Farm.
As you can see, there is so much to do within a 10 minute drive from our beautiful location!
This cabin is a large 5 bedroom 3.5 bathroom luxury cabin that is beautifully landscaped. Split into 3 levels, this cabin has 2 kitchens and two living spaces. The main level boasts a large open concept kitchen with 4 seater corner booth and a 6 person dining room table with expandable leaf. Kitchen area flows easily into the living space equipped with a 55" flat screen TV. Enjoy sitting on the large front porch with pond view and plenty of lawn to play on. For added convenience, there is a kitchen located on the lower level as well as additional dining seating. Both kitchens are fully stocked with plates, utensils, and cookware for your cooking needs. The lower kitchen is equipped with a microwave, stovetop, and refrigerator. The upstairs kitchen is equipped with a microwave, stovetop, and refrigerator, as well as an oven and dishwasher for your convenience.
Bedrooms/Bathrooms:
Main level
- 1 queen bedroom with attached 3/4 bathroom
- laundry room with washer/dryer and 1/2 bathroom
- 1 queen sleeper sofa in living room
Upstairs
- Master bedroom with King bed and attached full bathroom
- Bedroom with 2 twin beds (not bunk) and attached full bathroom shared with King room
- Loft with twin day bed and twin trundle.
Downstairs
- 1 queen room with 49" TV
- 1 queen room with twin sleeper pull out couch
- 1 full sized sleeper pull out couch in living room
- 1 3/4 bathroom
Sleeping Arrangements
Common Spaces
2 Single Beds, 2 Sofa Beds
Bedroom 5
1 Queen Bed, 1 Sofa Bed
Policies
Cancellation Policy
(There is a separate policy for whole resort rentals, see below). We understand that certain circumstances may require you to cancel your reservation. Should you need to cancel, please let us know as soon as possible. Our cancellation policy is as follows: More than 60 days from arrival date, you will receive a 100% refund less the non-refundable service fee, between 60 and 30 days of arrival date, you will receive a 50% refund less the non-refundable service fee, should you cancel less than 30 days before your specified arrival date, you will not receive a refund. There will be no exceptions to this policy.
WHOLE RESORT RENTAL CANCELATION POLICY: If you are renting all units on the resort together, you may cancel more than 90 days prior to your arrival to receive a full refund less a 15% cancellation fee. Your remaining balance will be due 90 days prior to your arrival and there will be no refunds for cancellations within 90 days of your arrival. There will be no exceptions to this policy.
Deposit Policy
50% deposit is due at time of booking to reserve your dates. Balance is due 30 days prior to arrival. Please note, if your reservation is a whole resort rental, your balance will be due 90 days prior to your arrival.
Rate varies due to seasonality and holidays. Please select your dates on our online booking calendar for an exact quote.
"Airbnb Review #960999923615172172 #212691"
North Star lodge was a great home for our family reunion of ten. Very well equipped, clean, homey, and beautiful setting. The host, Brooke, was most responsive to every question we raised, both before and during our visit. About 40 minutes to west entrance of Glacier National Park and another 30-40 minutes to most major park sites, except Many Glacier. We took multiple hikes in the park. Might note that to get to the Two Medicines area we took Route 2 around the park, rather than go through the park. Good decision. Cabin is close to Whitefish, where there are multiple decent restaurants. The Boat Club was excellent (and expensive).
"Airbnb Review #937731170099249334 #208980"
GreaT PLACE, LOCATION AND HOST.
"Airbnb Review #830477214487197415 #189436"
As described, no surprises. Awesome log cabin style house with a beautiful view!
"Airbnb Review #673982929105773260 #162569"
Making Memories!!
"Perfect Montana Getaway"
Quintessential Montana log home/cabin. Much bigger than the pictures show. You could easily fit two families here. All the great amenities in a quiet community.
"Tranquility and comfort"
We have been having family reunions in NW Montana for years, and this is undoubtedly our best experience as far as lodging. We had five couples and some local guests as well for meals and the house was above and beyond comfortable and spacious. But I think the setting needs as much credit. They have done a great job to provide spaces for group gatherings as well as privacy. We loved it and hope to experience it again.
"Family Reunion"
Excellent accommodations and staff. Family of 17 enjoyed an excellent vacation at the Haymoon Resort. Would definitely come again. Close to a variety of activities.
"Great experience"
Everything we could have hoped for and more
"Great place"
Beautiful property. Great support from the owner. Perfect for our large group.
"Family time at Glacier"
Beautiful property and house. We all enjoyed it, kids had fun outside.
"Montana vacation"
The house was beautiful and well stocked. The location is close to everything. My only disappointment was there was no mountain views. It was fun seeing the deer in our yard each morning. The whole family had a great time!
"great big family place"
great
"Nice"
Property was as advertised and worked great for eight of us.
"Awesome Place, great easy to deal with hosts."
We had a large golf trip and booked this place to stay. Would 111% recommend this place to others. Beds were comfortable, place was clean, and very accommodating. The house is located in a quiet area almost felt like we were camping. Thank you for having us.
"Coziest place in Whitefish"
My friends and I had a wonderful time at the Haymoon Resort. The house was spotless and they setup a cute welcome amenity for all of us. Thank you so much for making our stay so special and we are looking forward to staying again in the North Star Cabin in the near future. #whitefishvrbo #thisplaceisperfect #whitefish #awesometimesinMT
"Wonderful"
Great place to stay, and wonderful hosts. The location is perfect for large groups.
"Great place!"
Very nice cabin with all the amenities you'd need.
"Quaint and comfortable cabin with all the amenities"
The North Star cabin at Haywood Resort was perfect for our needs. The location is ideal and close to so much- the airport, Kalispell, downtown Whitefish and Glacier National Park. Not only are the views beautiful (deer, turkey, and geese daily with pond and gazebos), but the cabin itself is up to date while still giving the rustic(ish) feel/vibe. The North Star is equipped with everything you need and so much more- fully accessorized kitchen, a propane grill, smart tv's, board games, laundry capabilities, etc.... Brooke was an amazing hostess- very hands on and readily available for any needs. I would highly recommend this property for any vacation, etc... We definitely plan a return visit!
Main level kitchen, seating for 6
Dining room - seating with 8 +2 with folding chairs (additional seating in kitchen)
Dining room - seating with 8 +2 with folding chairs (additional seating in kitchen)
Main level family room with smart TV and Netflix
Main level family room with smart TV and Netflix
Dining room with pellet stove - seating for 8 +2 with folding chairs
View from gift shop
Volleyball net
Master bedroom with king bed
Master bedroom with King bed
Upstairs bathroom with Jacuzzi tub
Upstairs room with 2 twin beds
Upstairs room with 2 twin beds
Loft with twin daybed and twin trundle
Dest in loft
Main level ensuite bathroom with shower
Main level bedroom with queen bed
Washer/dryer and half bathroom
Downstairs living room with small kitchen and dining area, full sized sleeper sofa
Downstairs living room with small kitchen and dining area
Small downstairs kitchen
Downstairs bedroom with queen bed
Downstairs bedroom with queen bed and twin sleeper sofa
Downstairs bathroom with shower
Front entrance sign at night
Beautifully landscaped porch with Weber Gas Grill, picnic table, and outdoor chairs. Great wildlife viewing area. Turkeys and deer frequent the area regularly.
Front Deck
Gift Shop
Side view of cabin showing all three stories and lawn for playing games and relaxing.
Back patio and master bedroom balcony that overlooks the pond.
Entrance sign in Winter
Gift shop
Front pond in winter
Driveway in winter
Winter
Pavilion in winter
Front pond in winter